We're really just passing by; we're passing by through this transient earth.
In the last few weeks, a series of family events just confirmed this. First news was one distant sister in law in her fifties passed on due to a kidney cancer.
Then 2 weeks later, one ex-brother in law whom son was one of my favorite nephews discovered that he had contracted stage 4 lung cancer. So his time on this earth would be momentary from now on.
Just 2 days ago on my birthday, I received the shocking news that one of my brother in law's brother whose wife just passed on was found dead in Inner Mongolia in his sleep whilst vacationing there.
When news of such death was reported in the news on unrelated people, the news might cause us some concern. But it would deeply influence us when these were close friends or people whom we knew.
I was thus reminded of the transience of this life and how brief each of our life might be. I was reminded that we were just passing by through this earth.
No one knew how we would leave this earth, whether be it through sickness, through accident or through tragedy, only God knew. No one had the power to choose when we would go and how we would.
But one thing we all knew was that we would leave this earth one day. No matter how much we could love this earth and those around us, we would have to leave this place and would go on to the next.
For this Earth was not our permanent home. It was only a place where we were born to get ready for the next.
But we knew that we were going to one place where our spirit would live on.
Therefore, it was crucial to take stock of our lives on this earth, gave serious thought of what we were doing and how the things we did here could affect the next.
Some chose to ignore all the warnings of their physical bodies and then they got sick and suffered from it.
Some chose to live as if there was no tomorrow and they lived for the present moment. They lived for themselves, for their wants, their lust and their immediate desires.
As Christians, we were to live differently for we were only strangers on this earth and we were only passing by.
We were called into the Kingdom of God, into the present and future Kingdom of Heaven and we should live for the blessed hope for that beautiful glorious place where we would not have pain any more.
Yes, there was such a place called Heaven. I firmly believed with all my heart there Heaven existed, a Heaven where I would meet all the loved ones and where I would live with God forever.
Without the realm of Heaven, our lives on this earth would be meaningless, aimless and useless. Heaven was the ultimate of all our righteous acts, our hopes of glory and the rewards for all our labors of obedience and sacrifices on this earth.
As I was only passing by on this earth, I had decided to be less petty, less calculative, but instead be more caring, be more forgiving and generous and be more Christ-like in all my ways.
I should learn to be less involved in the cares and issues of this world but be involved in the things of God, because I was only passing by.
Lastly, I would leave you with these beautiful verses from the Bible:
1 Peter 2, verse 11
11: Dearly beloved, I beseech you as strangers and pilgrims, abstain from fleshly lusts, which war against the soul;
Psalms 119, verse 19
19: I am a stranger in the earth: hide not thy commandments from me
So friends, do plan your life from now on, walk in the way that will bring you to that wonderful destination.
May the Lord guide us to walk wisely as strangers on this earth, for our lives may be fleeting or long for only God knows. Thanks for reading. Amen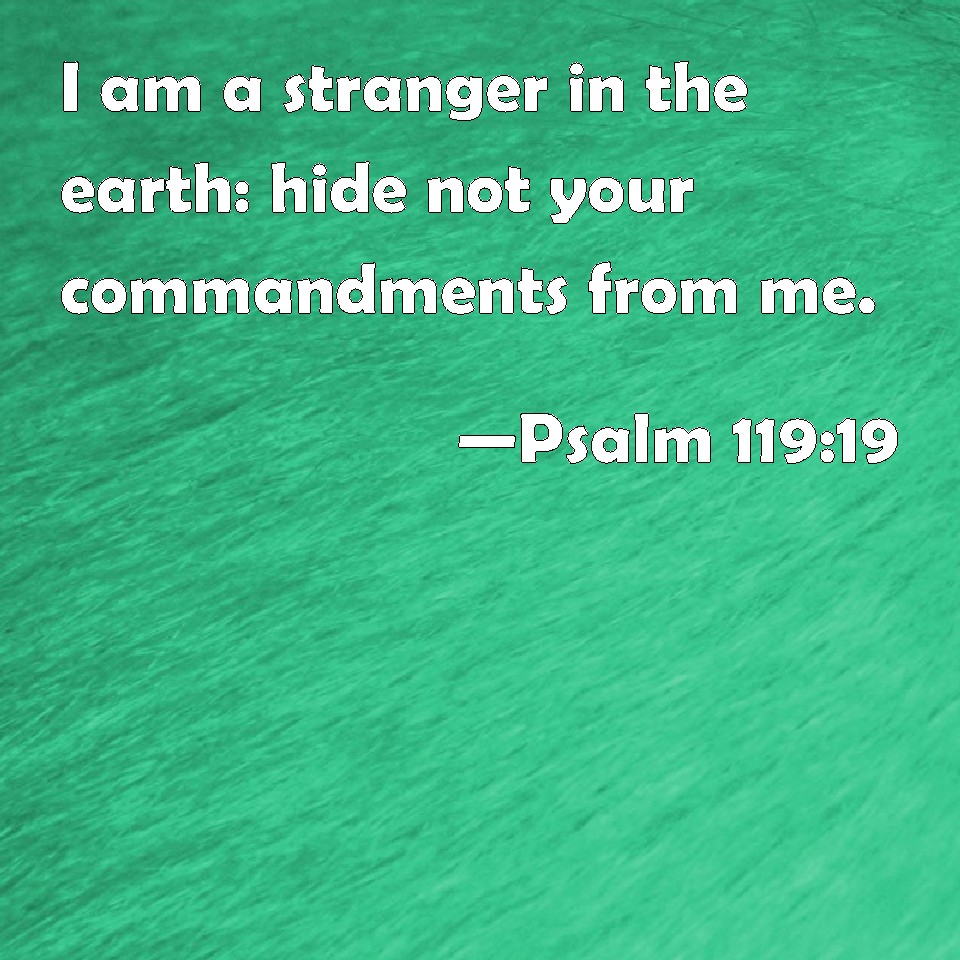 All Rights Reserved